Connecting to GPS Remote Control
Overview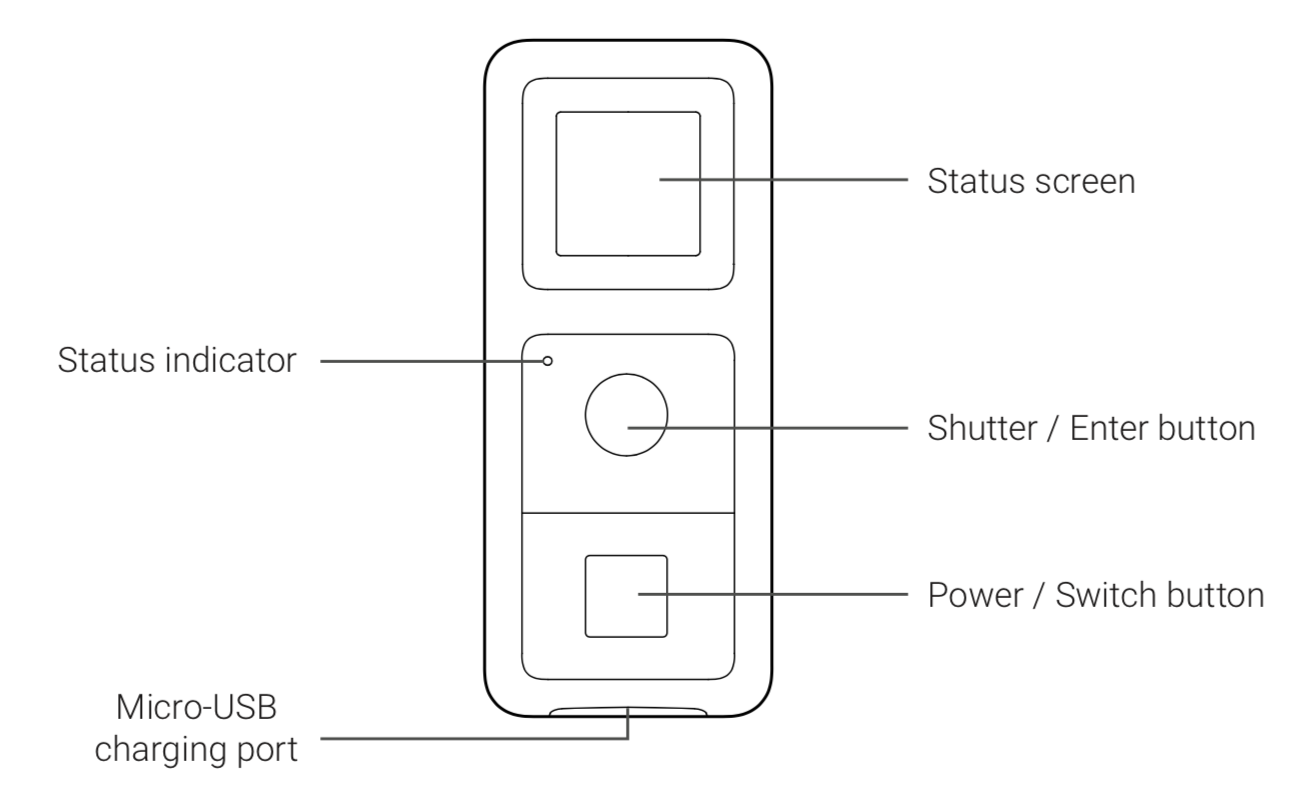 Status Screen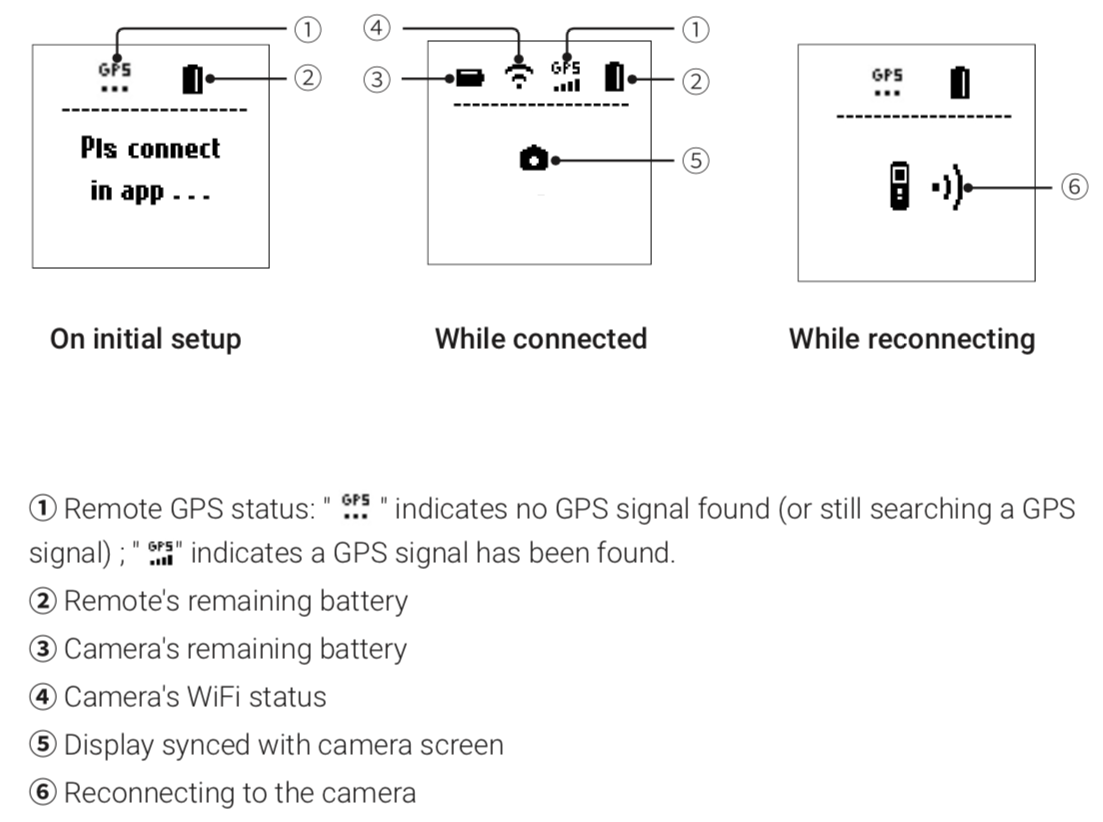 Pair the remote and your camera
1.Be sure that your camera's firmware and app version have been updated to the latest official versions. 2.Turn on your camera. 3.Press and hold the Power / Switch button to turn on the remote. Then press the two button on the remote simultaneously to reset it. When the indicator alternates between blue and green, your remote has begun pairing. 4.Swipe down the camera's touch screen to open the Shortcut menu, select【Settings】> 【Bluetooth remote】,and select "Insta360 Remote".When the remote's screen displays "Connected", it indicates a successful connection.
*Important: 1)If afterwards you wish to connect your remote to another camera, you need to press the two buttons on the remote simultaneously to unbind the previous connection, and then connect the remote and camera in the app. 2)The remote can be used up to 10 meters away in optimal conditions.

How to use
Take a photo Press Shutter / Enter button to take photos.
Shoot a video Press Power / Switch button to scroll to video mode, and then press Shutter / Enter button to start / stop video recording.
Turn off Press and hold the Power / Switch button to turn off both the camera and remote.
Reset Press and hold the Power / Switch button for about 9 seconds to reset and restart the remote.
Mount the remote Method 1: Mount it onto the selfie stick The included mount clip secures the remote onto a selfie stick (diameter: 25mm).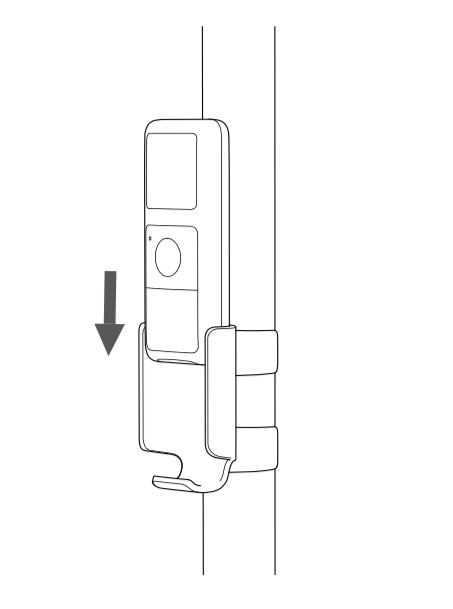 Method 2: Mount it onto the wrist strap The included wrist strap and rubber case secure the remote to your wrist, backpack straps, ski poles, bike frames, and so on. Attaching to your wrist is shown as an example below. 1)Place the GPS smart remote into the rubber case.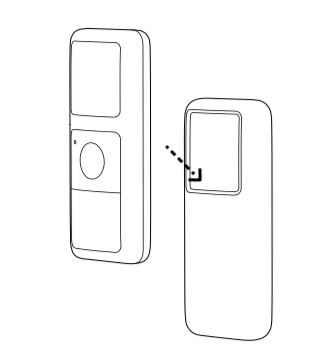 2)2)Thread the wrist strap through the slots on the back of the rubber case until situated as shown below in figure ⓶ (Move the remote to the rightmost).

3)3)Secure the wrist strap onto your wrist.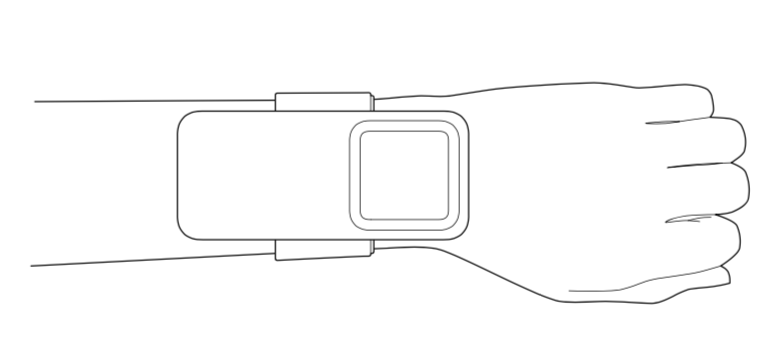 GPS Feature To find a strong GPS signal, please place the remote in a spacious outdoor setting, and be sure to hold or mount the remote with the top facing upward. It can take up to a minute to establish a signal (with no interference or obstructions).
Safety
Warning: Failure to follow these safety instructions may result in fire, electric shock or other injuries, damaging the remote and other property.
Handling: The GPS smart remote contains sensive components. Do not drop, disassemble, open, crush, bend, deform, punture, shred, microwave, incinerate, paint or insert foreign objects into the product. Do not use the remote if it has been damaged. Keep the remote's screen clean.
Use: Avoid dramatic changes in temperature or humidity when using the remote as condensation may form on or within the product. When you're using or charging the remote, it is normal for the product to get warm.
Please click here to contact us for further support.